At Technology from Sage our purpose is to support libraries in advancing teaching, learning and research. We can't achieve this mission without the work of the talented team at Technology from Sage, so we've launched a series of posts for you to find out more about the team.
---
In this Meet the Team post, we're joined by João Peres, Head of Product, Discovery & Authorship at Technology from Sage. Read on to find out more about João – including Sciwheel's transition over to Technology from SAGE, why he loves working across the Lean Library and Sciwheel products and the importance of being grateful in day-to-day life!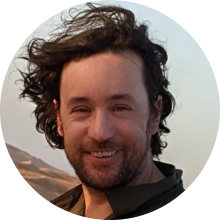 1. Tell us about joining Technology from Sage and your experience beforehand
I joined the team last July when Sciwheel was acquired by Technology from Sage. Sciwheel is an award-winning online reference management tool that provides researchers and students with an easy and intuitive way to discover, read, annotate, write and share research. I have been involved with Sciwheel (initially called F1000Workspace) since its inception as Product Manager. After leaving Sciwheel for a couple of years I came back as a Head of Product, a more strategic role across all the products of Sciencenow. Joining Lean Library as part of the acquisition, I soon was promoted to Head of Product for Lean Library too. The adventure continues!
2. Can you tell us a bit about what you do at Technology from Sage?
This is the fun part; getting to work with two excellent products that have so much potential individually but even more when working together. Sciwheel's focus is primarily on the researcher workflow and Lean Library's focus is the student. Bringing these two ecosystems together and the knowledge and learnings from both worlds will benefit immensely all of our users. It will be challenging but I'm extremely excited about this; I love problem-solving.
3. What excites you most about your work at Technology from Sage?
I'm delighted that I've joined a wonderful team. Everybody is friendly and welcoming – not only in the Lean Library team but also in the wider Technology for SAGE and SAGE Publishing teams. It's great to work in a place with such a great ethos; there are so many opportunities to grow professionally and personally; webinars, cultural events, volunteer opportunities, etc.
4. What's the best day you've ever had at work? Is there a particular project or milestone you are proud of?
All transitions have their challenges and moving a product from one company to another is not an easy task. I'm immensely proud of how our team managed to adapt to the new circumstances and work hard to do all the necessary changes, from updating copy to cloud migration, from new tools to adoption of new processes; the team has got the job done.
5. What three things are always on your desk?
A notepad to doodle, sketch and take notes, with the hope that I can understand what was going through my head at the time; a (very resilient) plant that I am trying my best to keep it alive; and a glass of water to stop me from drinking too much coffee, and to make me get up and walk more often.
6. What's the best book you've read recently and why?
One book that I've really enjoyed reading recently was In Our Mad and Furious City by Guy Gunaratne. It's told through the eyes of five different characters and takes us inside a London estate at times of social divisions. There are different generations and cultures but similar challenges. It's beautifully written and structured, even if at times I struggled to understand the colloquial language used by some of the younger characters.
7. Is there a quote or mantra that you live by? What's the best piece of advice you've ever heard?
This is not really a piece of advice but every time I ask Denis, my veggie man (he has a stall on my local high street where he sells fruit and vegetables) how things are going he always answers "Great, couldn't be better!" Even if the business may be struggling, he always adds that there are people worse off so we should be grateful for what we have. Sometimes we tend to forget all the good things going on in our life.
8. It's your day off. What do you have planned?
To have a nice, relaxed breakfast, read the newspaper in analogical format, and head up to the beach to enjoy the sun and swim in the sea. Of course, living in London, the second part rarely happens.
9. If you didn't work at Technology from Sage or in your current role, what would you want to do?
I do love working with products because it brings together the problem-solving, teamwork and research aspect of science and the creativity and beauty of art. If I didn't work at Lean Library I'd be using my skills in helping to solve some of the 'small' problems that we currently face such as: climate change, cultural divides, or world peace.