Increasing patron usage of digital collections: Access simplified and streamlined for patrons
In this case study, we look at how Kennesaw State University Library used Lean Library to increase patron usage of its digital collections.

Lean Library has been instrumental in helping students and faculty become aware of the breadth of resources they can access through our subscriptions, particularly those provided through academic publishers.

Karen Doster-Greenleaf, Director of Research & Instructional Services/Librarian Associate Professor
The Challenges
Kennesaw State University librarians tried on multiple occasions to promote their digital collection offering through social media outlets without much success due to a lack of awareness of their digital collection holdings and how to access this content by students and faculty. This led the team to research and find a solution that simplified the search process and saved access and research time for faculty and students.
We analyzed our digital collection data and found only a 24% usage level from November 2021 to November 2022… We asked ourselves how we could maximize the exposure of our resources and increase usage.

Li Chen and Karen Doster-Greenleaf, Kennesaw State University (KSU)
The Solution
Kennesaw State University introduced Lean Library Access in July 2023, promoting the tool through a mixture of passive and active promotion, including website banners, campus announcements and FAQs on how to use Lean Library.
Since we adopted Lean Library, we have received positive feedback from both faculty and students. The usage of our library collection through Lean Library has steadily increased as well.

Li Chen and Karen Doster- Greenleaf, Kennesaw State University (KSU)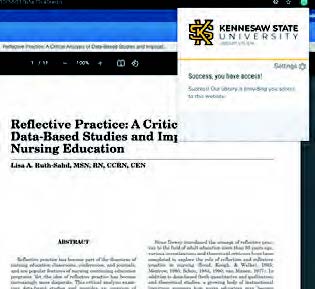 When patrons accessed a website Kennesaw State University is subscribed to, they would receive a pop-up assist message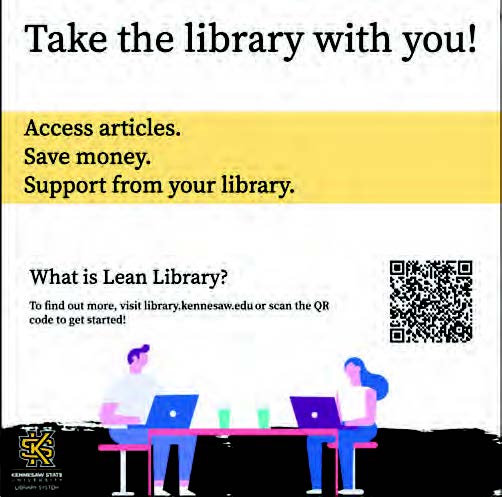 To promote the availability of Lean Library to patrons, promotional collateral was created and shared throughout the campus
The Results
The introduction of Lean Library created a sharp increase in the number of library resources accessed, growing from 88 to 3,355 (3712%) in just 4 months.

Library collection usage before and after the introduction of Lean Library
Interested?
If you'd like to hear more or receive a product demo, get in touch.