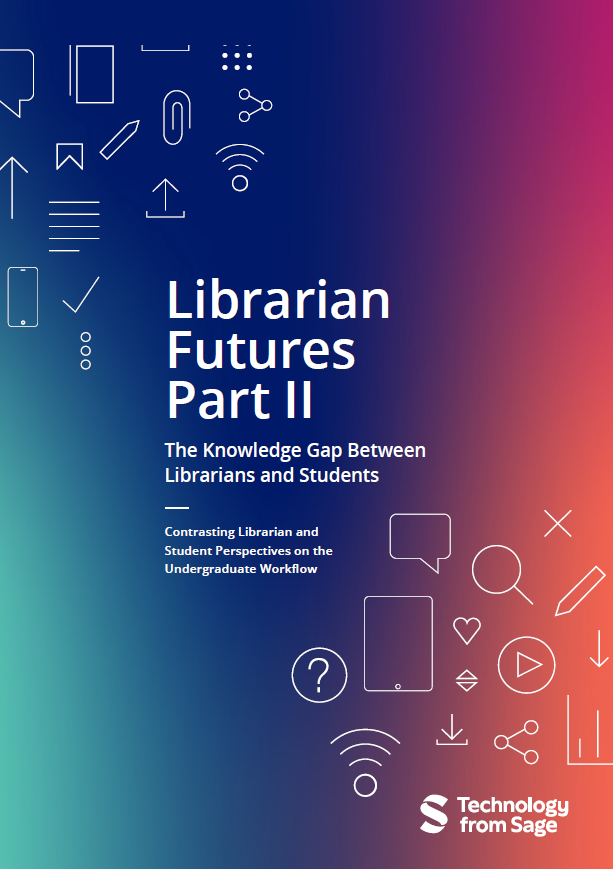 Back in 2021, we launched our inaugural Librarians Futures report which investigated areas of misalignment between the support and resources prioritized by libraries compared to the areas most appreciated by patrons through a largescale survey of librarians and their patrons.
To build a more detailed picture of this existing misalignment, we commissioned a student-led research project seeking to better understand student perspectives on the university experience, and more specifically, resource and reading lists for the classroom. This offered us great insight into the existing dissonance between Librarians and students, and was the central part of our second Librarian Futures Report titled The Knowledge Gap Between Librarians and Students.
In this blog post we'll look at 9 key findings from the Librarian Futures Report Part Two:
1. Most students consider their library as one of their last sources of information for their research and studies
When students were asked to identify how they find resources during their course, the most popular answer was "I Google stuff" with 63% of respondents. In contrast, far fewer students answered they either use their library website (35%) or building (27%) while searching for resources, and fewer still use them as their first port-of-call (10%, 6% respectively).
When looking for a reason for this, research has shown that this might be due to students reporting difficulty in using the discovery services provided by their library (Sharman & East, 2022, OpenAthens, 2023).
2. Many students don't see the true value of their library when it comes to supporting their studies
When students were asked to identify how their library supports their studies, only 34% of students reported that libraries help them find resources and only 24% of students reported that librarians taught them about resources.
This might be due to many students seeing the library as merely a building and a source of collections, with 50% of respondents considering the library's role in supporting their studies as "providing access to academic resources," and 46% saying that the library "provides access to textbooks". Most worryingly, 5% believe the library has no role in supporting their studies.
3. First-generation students feel they need far more support with their academic reading in comparison to more experienced students
When asked about their academic reading confidence levels, 32% of non-first-generation students reported they were "very confident" reading academic literature, significantly more than 21% of first-generation students. This trend continues as confidence levels decrease, with 37% of first-generation students identifying as "somewhat confident," significantly more than 22% of non-first-generation students.
Interestingly, there also is a discrepancy in the confidence levels of student as perceived by students themselves in comparison to academic staff, with 41.8% of students rating their academic reading confidence positively while just 11.6% of staff rating student competency as positive.
4. Students do not report that librarians help them with their academic work
When students were asked to identify who had helped them grow in key academic skills, just 25% of students reported that librarians in key areas, including:
Preparing an effective search for relevant resources
Finding good information
Getting access to resources
Referencing and citing academic works
Thinking critically about the subject
Writing at a university level
The results are affected by the type of students, with more experienced and part-time students being more likely to report that librarians have helped them.
5. Though most students are aware of extracurricular training opportunities, relatively few take advantage of these
When asked if they have participated in additional academic training, 25% of student surveyed reported that they do not participate in additional training of any sort despite the training given.
The most popular form of training included 34% of students training in study skills, while 32% in writing skills and only 18% taking part in citation management and 12% in information literacy.
With the emergence and extreme popularity of large-language models like ChatGPT, which generate convincing (though often unreliable) text, this challenge is set to become even more crucial.
6. Students are finding it most difficult to focus on a task at hand, managing their time and getting help when they need it when preparing an assignment
When students were asked to rate areas where they have most trouble when preparing an assignment, 40% answered that they found it very difficult or somewhat difficult to manage their time, 38% had difficulty keeping focused on a task, and most importantly 31% reported difficulty when trying to receive help when they needed it.
It is worth noting that these pain points shift when students gain more experience, with more prepared students reported that they found it easy significantly more than less prepared.
When it comes to areas where students demonstrated their confidence when writing an assignment and found it very easy or somewhat easy to complete these tasks, 57% chose making notes and annotating sources, 54% chose understanding the assignment, however only a slim majority (52%) reported that they found "finding relevant resources" easy.
7. Students overwhelmingly identified as independent learners, rather than collaborative learners
When students were asked to identify their approach to learning, 57% of students identified themselves as independent learners.
A reason for this might be a lack of access or knowledge of how to use a collaboration software, with just 10% of respondents identifying a collaboration software as a tool they consider using for planning and preparing for assignments.
8. 60% of students spend 30 minutes or more finding a relevant resource or giving up and moving on to something else
When students were asked how long they spent searching for a relevant resource, 25% answered they would spend 30-60 minutes looking for a resource, 12% 60-90 minutes and 17% 90 or more.
This becomes problematic considering that only 25% of students reported receiving help from librarians for accessing resources, and just 16% said librarians had helped them find good information.
9. Students with a disability were significantly more likely to spend 15 minutes or less looking for a resource
The fact that students with disabilities are more likely to spend less time looking for resources highlights the importance of finding them in their workflow and streamlining the access to relevant high-quality information.
Additionally, students without disabilities reported that they are significantly more likely to go to the library building to find resources and are also more likely to see the library as a place to collaborate with other students.
Want to learn more?
Download our Librarian Futures Part II report to discover more noteworthy insights regarding how academic libraries can be more deeply involved in the undergraduate learning journey.
Share your thoughts about the findings in the new Librarian Futures Part II report on Twitter and LinkedIn.